How to hack wifi using aircrack-ng in ubuntu. Cracking a WPA2 WiFi Password with Aircrack 2019-05-14
How to hack wifi using aircrack-ng in ubuntu
Rating: 5,2/10

956

reviews
How to Hack WPA/WPA2 Wi Fi with Kali Linux: 9 Steps
This will bring up all the current directories and files. Remember the underlined word in the shot. Download the Kali Linux disk image. My area of expertise is Python, Linux Debian , Bash, Penetration testing, and Firewalls. This will grant root privileges to the Terminal. It tries every possible combination of words, letters, symbols, numbers and finally gave the password. If you are not able to get the handshake after several deauth requests, it is mostly likely because your clients are too far from you.
Next
How to use Reaver and Aircrack Suite to crack WPA WPS WiFi Security
Human beings are inherently lazy and make mistakes. We can also decide to use another tool in the Aircrack suite called aireplay -ng which will compel a device to reconnect via Aireplay sending out deauthentication packets to one of the wireless network devices. It focuses on different areas of WiFi security like Monitoring, Attacking, Testing, and Cracking. And remember that this type of attack is only as good as your password dictionary. Preparing for Installation for Ubuntu 14.
Next
How To Hack Any Wifi Password using Ubuntu
Aircrack-ng is a whole suite of tools for Wireless Security Auditing. You need to go in root first. Similarly a plus sign can be used to designate a package to install. Locate your network or the network that you have permission to penetration test. How can I create a custom dictionary or word list of my own so that i could crack his password??? As Aircrack-ng has been created primarily for Linux you can install and use it with any version of Linux.
Next
Install Aircrack
Step Three: Disconnect from all wireless networks, open a Terminal, and type airmon-ng This will list all of the wireless cards that support monitor not injection mode. Wait…wait… You also need a word list comprising of all the possible different combination of pass-phrases. Plug your Wi-Fi card into your Kali Linux computer. Act promptly, and press y to confirm the process. It will be usually the same for you but if it differs, you'll use it throughout the tutorial.
Next
Learn to Hack WIFI password with Ubuntu (WPA/WPA2)
This means that the router will block further pin attempts for a specific duration if multiple failed pin transactions have occurred in a row. Cracking the password might take a long time depending on the size of the wordlist. That is the first step to success! Please make sure that any software that relies on the newer libraries will either not work or won't work correctly. This enables root access for any other commands executed in Terminal. Enter sudo su followed by yodfur password after pressing Enter to grant root privileges to Terminal. Airodump will now list all of the wireless networks in your area, and a lot of useful information about them.
Next
Install Aircrack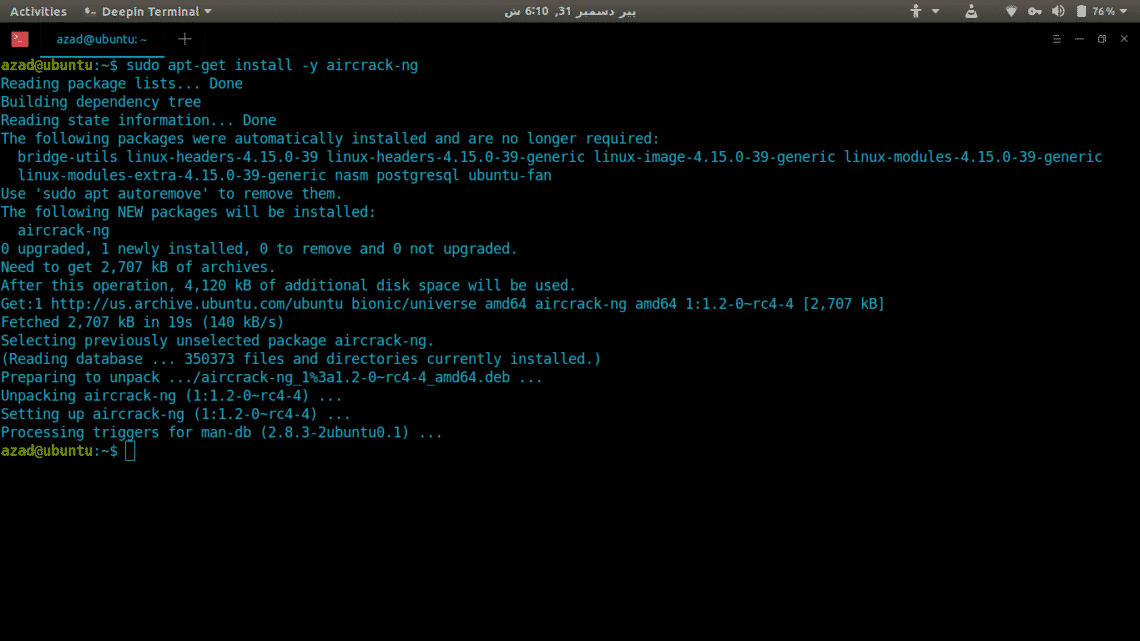 If you want to know how to hack WiFi access point — just read this step by step aircrack-ng tutorial, run the verified commands and hack WiFi password easily. The process can take a couple of hours so be patient! Make sure to replace wlan0 with your wireless interface. This will enable monitor mode. For instance, being able to categorize one type of channel from another. The interface will be wlan0 where 0 replaces with any real number.
Next
4STUPIDS DOT IN: How To Hack WPA/WPA2 Wi
Step Four: Type airmon-ng start followed by the interface name of your wireless card. This article has also been viewed 504,628 times. What is especially important for us — monitor mode allows packets to be captured without having to associate with an access point. There are some other similar tools available for this purpose like Kismet but aircrack-ng is better known for good support, versatility and having wide range of tools. In this step, you have to write the captured data to a specified path as in my case it is the Desktop.
Next
How To Hack WI
Also note that, even with these tools, Wi-Fi cracking is not for beginners. Therefore, the only solution to run reaver perfectly is to downgrade those libraries. All tools are command line which allows for heavy scripting. Instead of waiting for a device to connect, hackers can use this tool to force a device to reconnect by sending deauthentication deauth packets to one of the networks devices, making it think that it has to reconnect with the network. I have googled extensively regarding my wireless card, and followed literally hundreds of step by steps guides with fw cutter ect. Also note that, even with these tools, Wi-Fi cracking is not for beginners. Once you're done with this step, you can proceed with hacking your selected network.
Next
How to use Reaver and Aircrack Suite to crack WPA WPS WiFi Security
Note the channel of your target network. This all can be done with aircrack: aircrack-ng wep-03. Along, I will provide an illustration of the differences between the pros and the amateurs which ultimately illuminate my former objective of this article. How to install the aircrack-ng from sources in Linux Mint or Ubuntu Remove aircrack-ng if you already installed it: sudo apt remove aircrack-ng Install aircrack-ng dependencies, necessary for compilation and running the program: sudo apt install autoconf automake libpcre3-dev libnl-3-dev libsqlite3-dev libssl-dev ethtool build-essential g++ libnl-genl-3-dev libgcrypt20-dev libtool python3-distutils sudo apt install -y pkg-config Download aircrack-ng source, compile and install aircrack-ng:. If you have any questions or doubts regarding this article How to Hack Wifi Password? This command will push your wireless interface into monitor mode. Carefully see the screen shot. So if yours reports wlan1 then it is your wireless interface and you will be using it throughout the tutorial.
Next